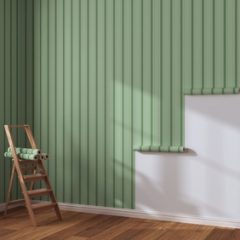 Wallpaper installation can be a fun and exciting way to transform the look of your home or office. It allows you to express your personality and style through various patterns, textures, and colors. However, when it comes to wallpaper installation, it is crucial to hire professionals to ensure a smooth and flawless finish. In this blog post, we will discuss the benefits of professional wallpaper installation.
1. Extensive Knowledge and Experience:
One of the main advantages of hiring professionals for wallpaper installation is their extensive knowledge and experience in the field. They have been trained in various techniques and have years of hands-on experience, which enables them to handle all types of wallpaper, including delicate and high-end materials. With the right knowledge and expertise, professionals can ensure that the wallpaper is applied correctly and will last for a long time.
2. Proper Surface Preparation:
A key aspect of wallpaper installation is surface preparation. Professionals understand the importance of preparing the walls properly before applying the wallpaper. They will ensure that the walls are clean, smooth, and free of any imperfections, such as cracks, holes, or uneven surfaces. They will also take care of any necessary wall repairs before starting the installation process. Proper surface preparation is crucial for achieving a flawless finish and ensuring that the wallpaper adheres properly.
3. Access to Quality Materials:
When you hire professionals for wallpaper installation, you can rest assured that they will provide you with access to quality materials. They have established relationships with suppliers and manufacturers, which allows them to source high-quality wallpaper. These professionals will help you choose the right type of wallpaper for your specific needs and preferences, ensuring that it not only looks beautiful but also lasts for a long time. They will also have access to specialty tools and equipment that are necessary for the installation process.
4. Time and Cost Savings:
While DIY projects might seem tempting, wallpaper installation can be a time-consuming and challenging task, especially if you have little to no experience in this field. Hiring professionals will save you a significant amount of time. They will complete the installation process quickly and efficiently, allowing you to enjoy your newly wallpapered space sooner. Additionally, professionals have the skills to ensure minimal waste and avoid costly mistakes that can arise from DIY attempts.
5. Attention to Detail:
Achieving a seamless and polished look requires a great deal of attention to detail. Professionals have a keen eye for precision and will make sure that the patterns and designs line up perfectly, without any visible seams or gaps. They will measure and cut the wallpaper accurately to fit each section of the wall meticulously. By hiring professionals, you can be confident that your wallpaper will be flawlessly installed.
6. Long-lasting Results:
When you invest in professional wallpaper installation, you can expect long-lasting results. Professionals use high-quality adhesive and techniques that ensure the wallpaper remains firmly in place, even in high humidity environments such as kitchens and bathrooms. Additionally, they can provide tips and advice on how to care for your wallpaper to ensure its longevity.
Conclusion
Professional wallpaper installation offers numerous benefits, including extensive knowledge and experience, proper surface preparation, access to quality materials, time and cost savings, attention to detail, and long-lasting results. So, if you are considering adding a touch of elegance and style to your space with wallpaper, it is highly recommended to hire professionals for a flawless and satisfying result.
Got Questions? Let Us Help!
Welcome to Fresh Start Painting Inc.! Fresh Start Painting Inc. is a family-owned and -operated painting contractor in Pensacola, Florida! With over 20 years of experience, you can rely on us for any residential or commercial work. We are ready to help with any and all interior and exterior painting, pressure washing, drywall repair, and more! Here at Fresh Start Painting Inc., we believe in honesty, integrity, and excellent customer service. With each and every project, we strive to exceed our customers' expectations. The proof is in our painting! Leave all your painting, staining, and drywall repairs to the experts. Contact us today to learn more about what we can do for you!
Categorised in: Wallpaper Installation