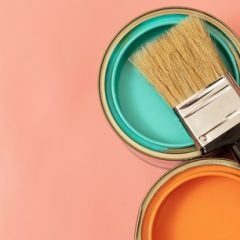 When it comes to giving a fresh look to your home, painting is one of the most effective and affordable ways to do so. While many homeowners choose to undertake this project during the warmer months, painting your home in the winter in Florida can actually offer significant advantages. In this blog post, we will explore the reasons why you should consider painting your home during the winter season in the Sunshine State.
Mild Winter Weather
One of the primary advantages of painting your home in the winter in Florida is the mild weather conditions. Unlike other parts of the country where frigid temperatures and snow can hinder outdoor activities, Florida winters are generally temperate, making it an ideal time to carry out exterior painting projects. With temperatures ranging from the 60s to 70s in most parts of Florida during winter, you won't have to worry about extreme heat or cold affecting the quality of your paint job.
Reduced Humidity
Another benefit of painting your home in the winter is the reduced humidity levels typically experienced in Florida during this season. High humidity can negatively impact the drying and curing process of paint, leading to longer drying times and potential issues such as blistering or bubbling. By painting in the winter, you can take advantage of the lower humidity levels, allowing the paint to dry properly and achieve a smooth, even finish.
Easier Scheduling
Winter is a generally quieter time for contractors, including professional painters. With fewer outdoor projects and renovations taking place, scheduling a reputable painting company can be easier during this season. The reduced demand means you may have more flexibility in selecting a convenient date and time for your project, ensuring it fits well with your personal schedule.
Indoor Projects and Holidays
Painting your home in the winter also offers the advantage of having indoor projects completed before the peak holiday season. With Thanksgiving and Christmas being popular times to gather with friends and family, getting your indoor painting done in the winter allows you to showcase a fresh and updated interior to your guests. Moreover, the decreased amount of time spent outdoors in winter makes it the perfect opportunity to undertake indoor home improvement tasks, allowing you to transform your living space with minimal disruption.
Preparing for Spring and Summer
By painting your home in the winter, you are proactively preparing for the upcoming spring and summer seasons when outdoor activities and gatherings tend to increase. Completing your exterior paint job in advance ensures that your home will be looking its best and ready for the warmer months. Plus, a fresh coat of paint can also protect your home's exterior from the potential heat, humidity, and rain that are more common during Florida summers.
Summary
While the traditional perception may be to tackle home improvement projects during the warmer months, painting your home in the winter in Florida offers several advantages. The mild weather, reduced humidity, easier scheduling, and the opportunity to complete indoor projects ahead of the holiday season are compelling reasons to consider painting your home during the winter. So, why wait? Take advantage of the winter season and give your home a fresh, vibrant look that will make it shine all year round.
Need Residential and Commerical Painting in Pensacola, FL?
Welcome to Fresh Start Painting Inc.! Fresh Start Painting Inc. is a family-owned and -operated painting contractor in Pensacola, Florida! With over 20 years of experience, you can rely on us for any residential or commercial work. We are ready to help with any and all interior and exterior painting, pressure washing, drywall repair, and more! Here at Fresh Start Painting Inc., we believe in honesty, integrity, and excellent customer service. With each and every project, we strive to exceed our customers' expectations. The proof is in our painting! Leave all your painting, staining, and drywall repairs to the experts. Contact us today to learn more about what we can do for you!
Categorised in: Painting